Cheerson's CX-10 Nano Quadcopter Drone is your ticket to learning how to use a drone. It's great for beginners, because it's super tiny which allows it to be flown indoors for practice, and can get into small nooks and corners! Don't let the little device fool you, it sports a variety of features for its price range. The CX-10 nano drone lets you do tricks like barrel rolls and flips.
It isn't built to take in too much atmospheric pressure, it being the size of a smartphone; which is also why the drone is the perfect device to start off your drone flying dreams!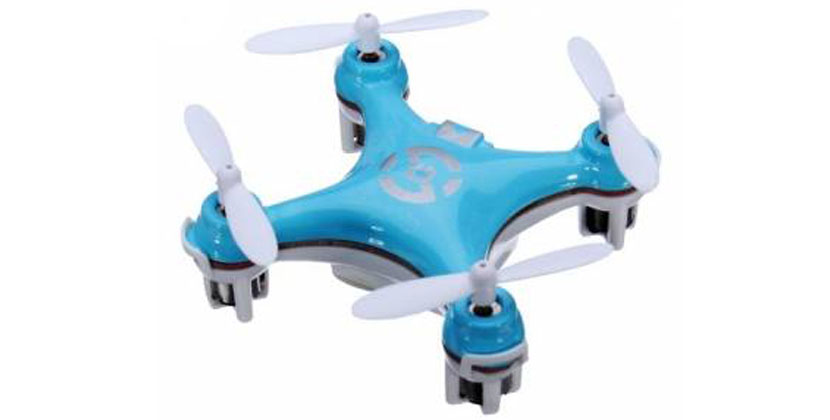 Primary Specifications
| | |
| --- | --- |
| Control Range | 30 – 40 Meters |
| Flight Duration | 4 – 8 Minutes |
| Recharge Duration | 40 Minutes |
| Warranty | No |
| Battery | 3.7V 100mAh Lithium battery |
| Transmitter Frequency | 2.4 GHz |
| Camera | No, can be bought separately |
| Ready to Fly | No |
| Remote Control | Yes |
| Age | 14+ |
| Dedicated App | No |
| FPV | No |
| Flashlight | No |
| Headless Mode | No |
| Indoor/Outdoor | Both |
| FAA Registration | Not Required |
| VR Headset Compatibility | No |
| 360 Degree Eversion | Yes |
Flying Experience
The Cheerson CX-10 is a pretty neat drone, which does flips and tricks and flies quite fast, zipping its way through the air. It comes with 3 levels of adjustable speed flip capability. It takes a bit of practice to control, it can go wobbly if not controlled properly, which is the best way to learn, quite honestly. It comes with 6-axis gyro, which keeps the drone stable while flying. It may go out of control at times, owing to the beginner's incapability to handle it, but after a few days, one can learn to take off, fly and land the drone with ease. It is even great for keeping your pet active, as they'd like to chase it around. The flight time is a good 4 to 8 minutes long, and the control range goes up to 40 meters. Because of the 6-axis gyro, the drone has enough stability that you could even land it on a narrow CD case!
Build and Design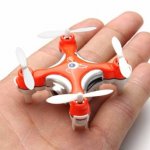 The device comes in four colors to choose from- green, blue, orange and purple. Its body is made of light, rigid plastic ABS material, and the quad copter is almost the size of a US quarter (Main rotor diameter is 2.9 cms). The drone weighs a mere 90 grams, enabling it to take off almost immediately. It has integrated speed control, and speed modes which can be adjusted via the remote control. It comes with 360-degree eversion, and has an extremely bright little LED light, for indication at night. The CX-10 also comes with a low voltage alarm.
Battery
A single piece, 3.7 volt, 100mAh battery is incorporated within the Cheerson CX-10 quad drone. It is chargeable and takes about 30 to 40 minutes to recharge completely. It can be done so, using a USB charger, whose port is well placed at the side of the drone's body, which is quite smart as it avoids setting of dust particles on it.
Remote Control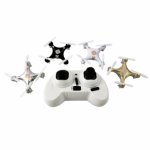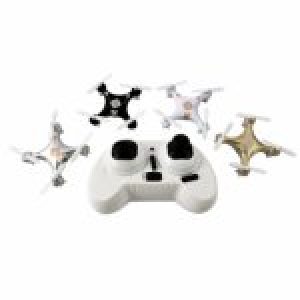 The drone is operated by a similar colored remote control, which is a wireless 2.4Ghz transmitter. It can control the drone till about 40 meters, and requires two 1.4 volt, AAA batteries. It requires a four – channel radio capability to function, and the remote is known for its ability to never cause loss of transmission issues during flight.
Is the Cheerson CX-10 Nano Quad Copter Drone Worth the Price?
One thing to note is that this drone was specifically built for practice purposes, and thus can take in a lot of wear and tear before it dies out. It sells in the market and online, at a cheap price, which makes it suitable as a gift for kids and teens- it is also quite attractive owing to its four funky colors. Although the drone is small, it does tricks and flips like other higher end drones do. The drone also comes with LED lights, a battery alarm, and a remote, which have the same power as in the big, expensive ones, just tinier in the looks. Overall, it is the best bet for kids, teens and even adults who want to try out drone flying! The set-up box comes with
One Nano Quad Copter
A USB Cable for charging
A wireless remote-controlled transmitter
Two pieces of Main Blades
A start up and user guide
With adjustable six-axis gyro, 360 flip, lights and indicator alarms, this little Nano Drone is winning hearts of all ages, one flight at a time.
Click here to know the price of Cheerson CX-10 Nano Quadcopter!