EACHINE E010 Mini UFO Quadcopter Drone is one of the best quadcopter drone toys for the novice flyers. It is a great household product that comes assembled at your doorstep ready to fly away. It is very compact in size, fitting almost in your palm. It is a brilliant indoor drone meant to keep your kids busy and give them a first-hand experience of flying a drone.
Its defining features are its 360 Degree roll-over, one key return and the compass mode. This drone is a package of value with so many exciting features.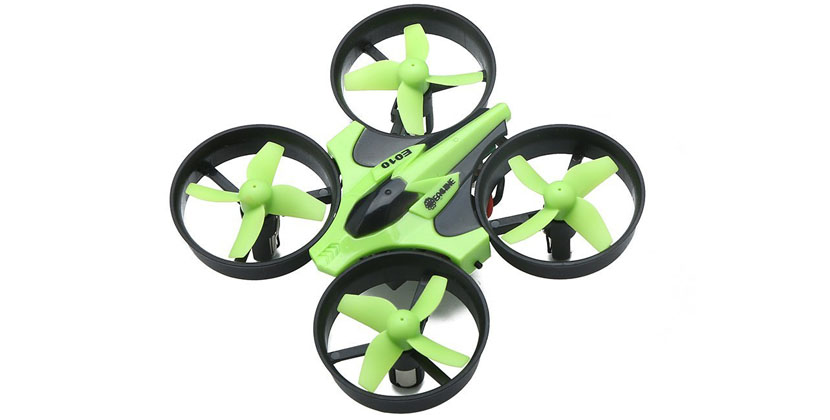 Primary Specifications
| | |
| --- | --- |
| Control Range | 30 Meters |
| Flight Duration | 5 Minutes |
| Recharge Duration | 30-50 Minutes |
| Warranty | 30 Days |
| Battery | 3.7V 150mAh LiPo |
| Frequency | 2.4 GHz |
| Camera | Not available |
| Video Resolution | No applicable |
| Ready to Fly | Yes |
| Remote Control | Yes |
| Age | 8+ years |
| Dedicated App | No |
| FPV | No |
| Flashlight | Two LEDs (Blue and red) |
| Headless Mode | Yes |
| Indoor/Outdoor | Both |
| FAA Registration | Not Required |
| VR Headset Compatibility | No |
| 360 Degree Eversion | Yes |
Flying Experience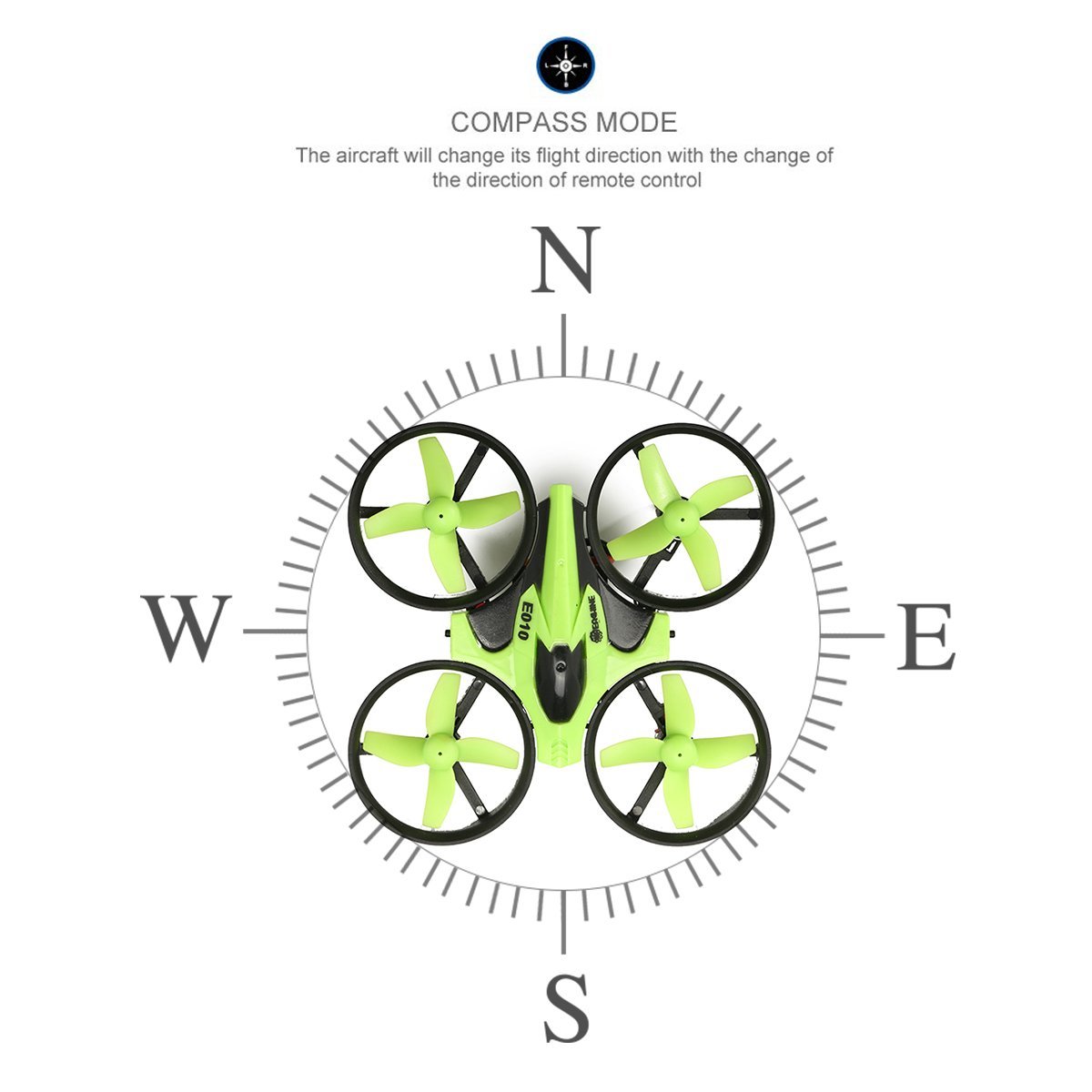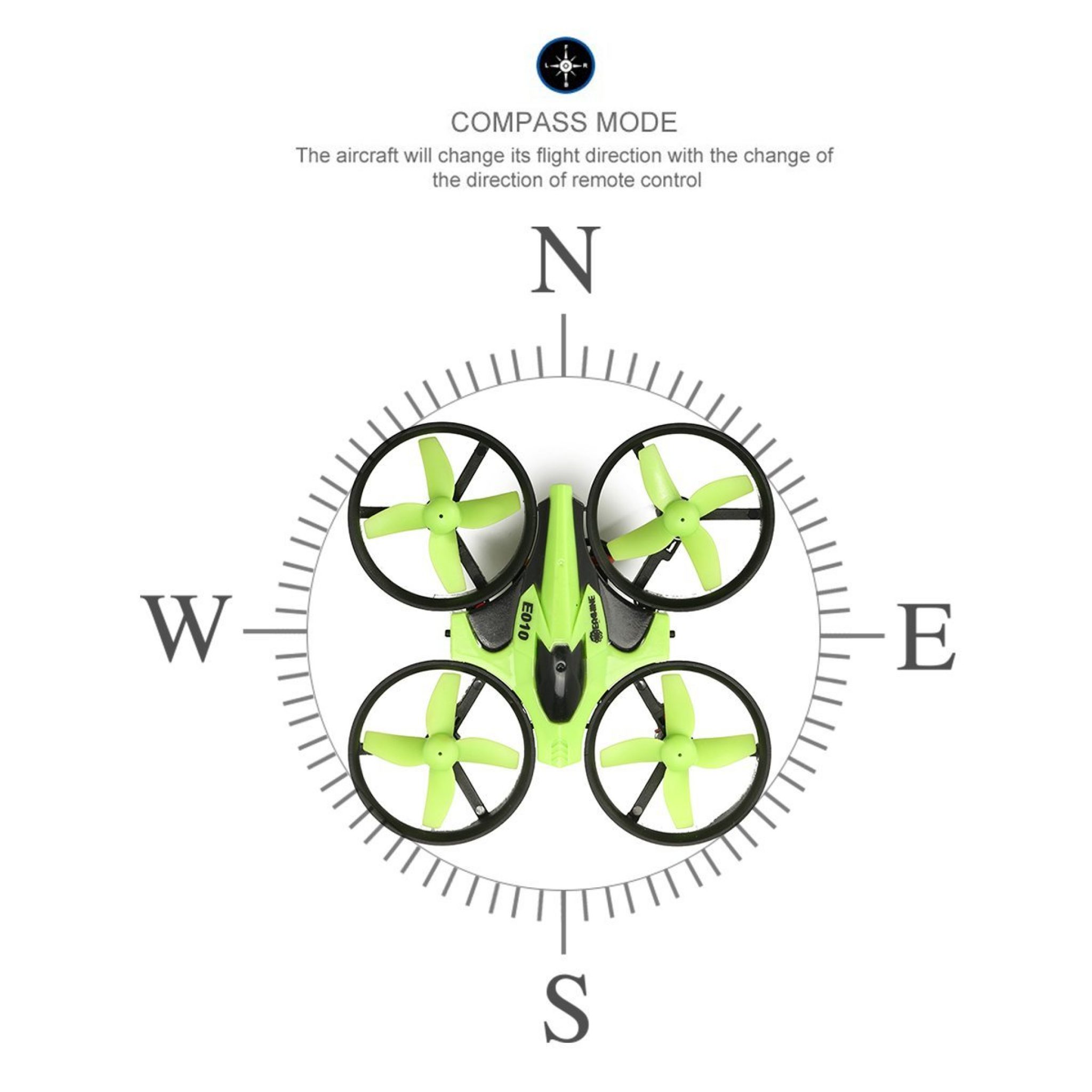 The drone comes in a ready to fly condition. You just need to attach its propeller, swap in the batteries and you are good to go. It is a very compact and easy to use drone. It can survive rough handling by the beginners. It can be flown both indoors and outdoors because of its compact size.
The drone can perform some amazing acrobatics once you get the hack of it. In no time, you will be flying it in loops and flips! Its failsafe measure of returning to the user in one touch makes it really trusted and user-friendly.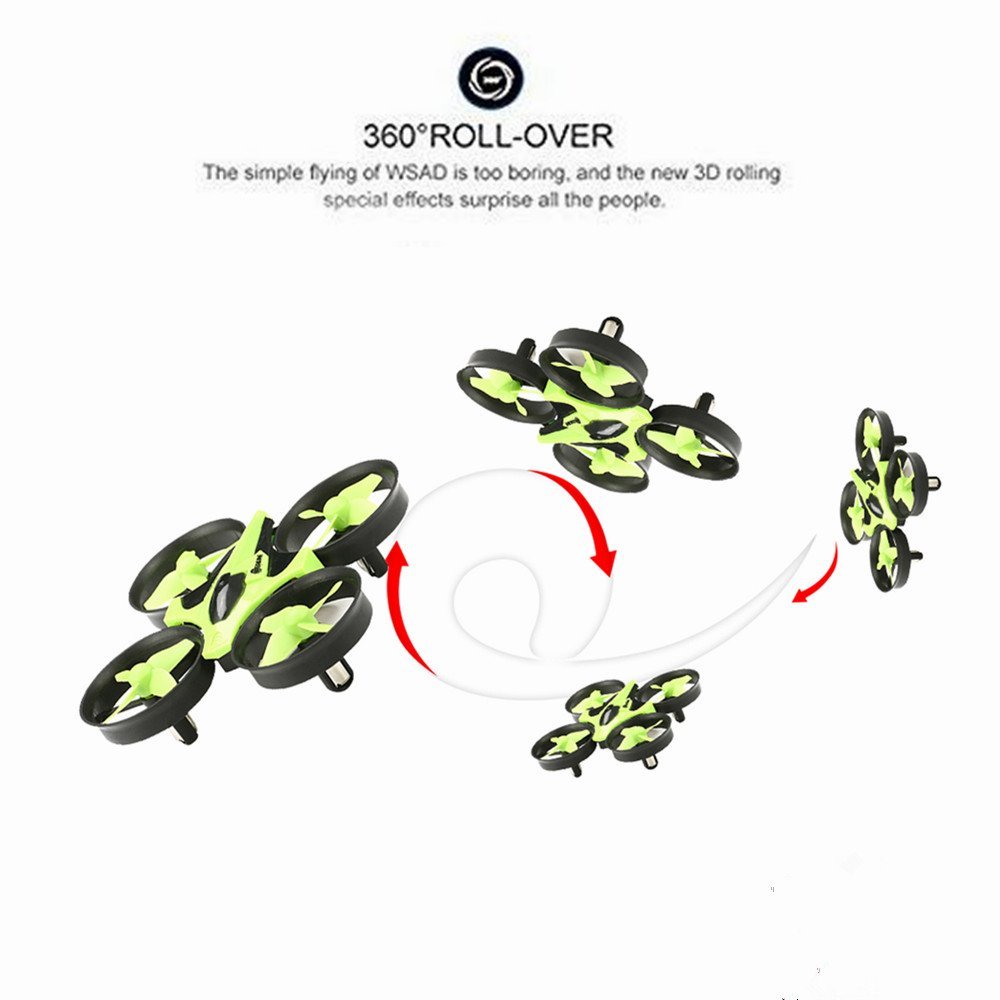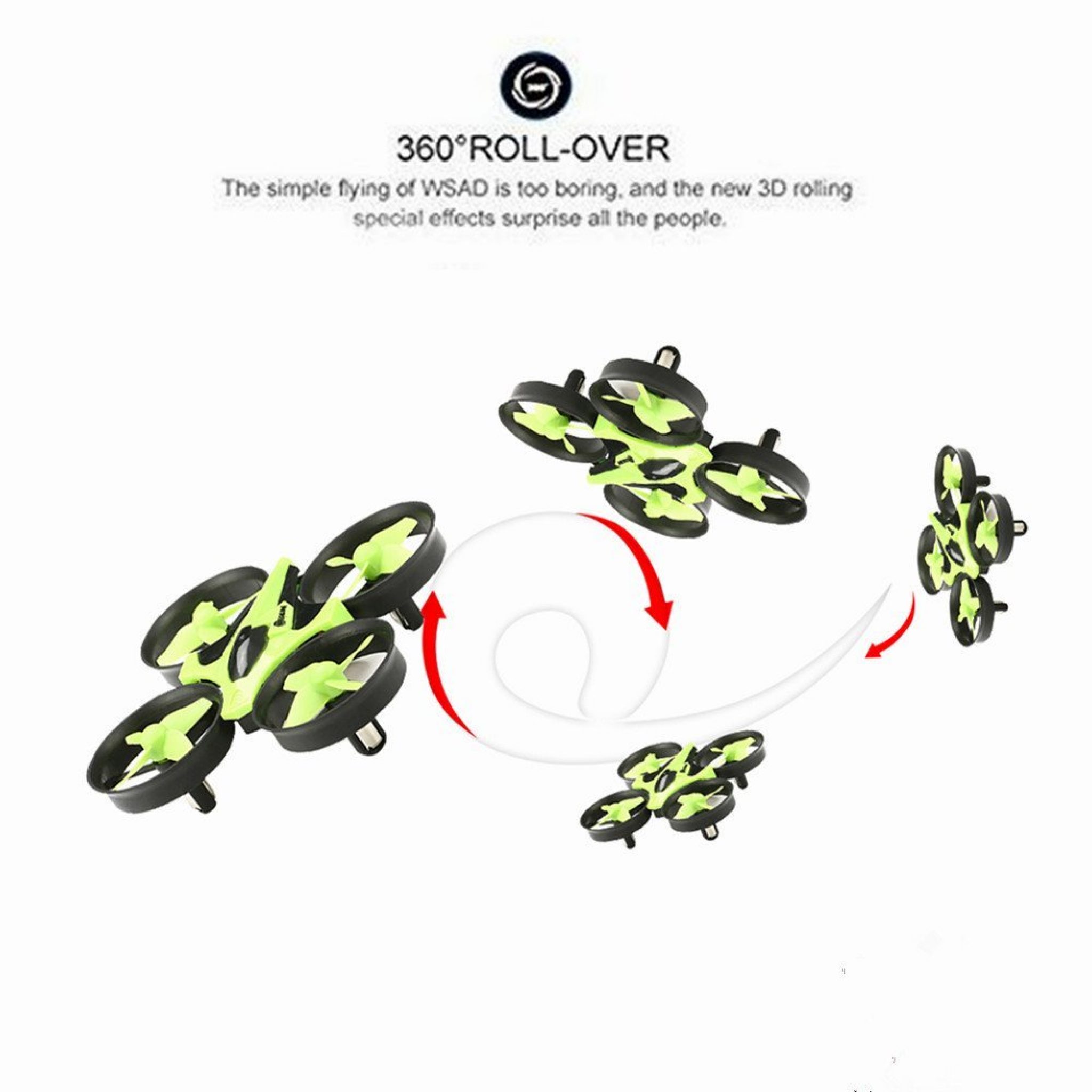 The Eachine quadcopter has about 5 minutes of flight time. It is really stable and can take on windy weather too.
Built and Design
Its body is made out of plastic and the metal is used to encase the electronic components. It is quite stable and small in size. It uses four brush motors to run the plastic propellers. Its controller has four channels with a 150mAh battery.
It has a length of 9.5 cm and breadth of 9.5 cm. It has a total height of 5 cm. It weighs 1.8 ounces, which is indeed light.
Remote Control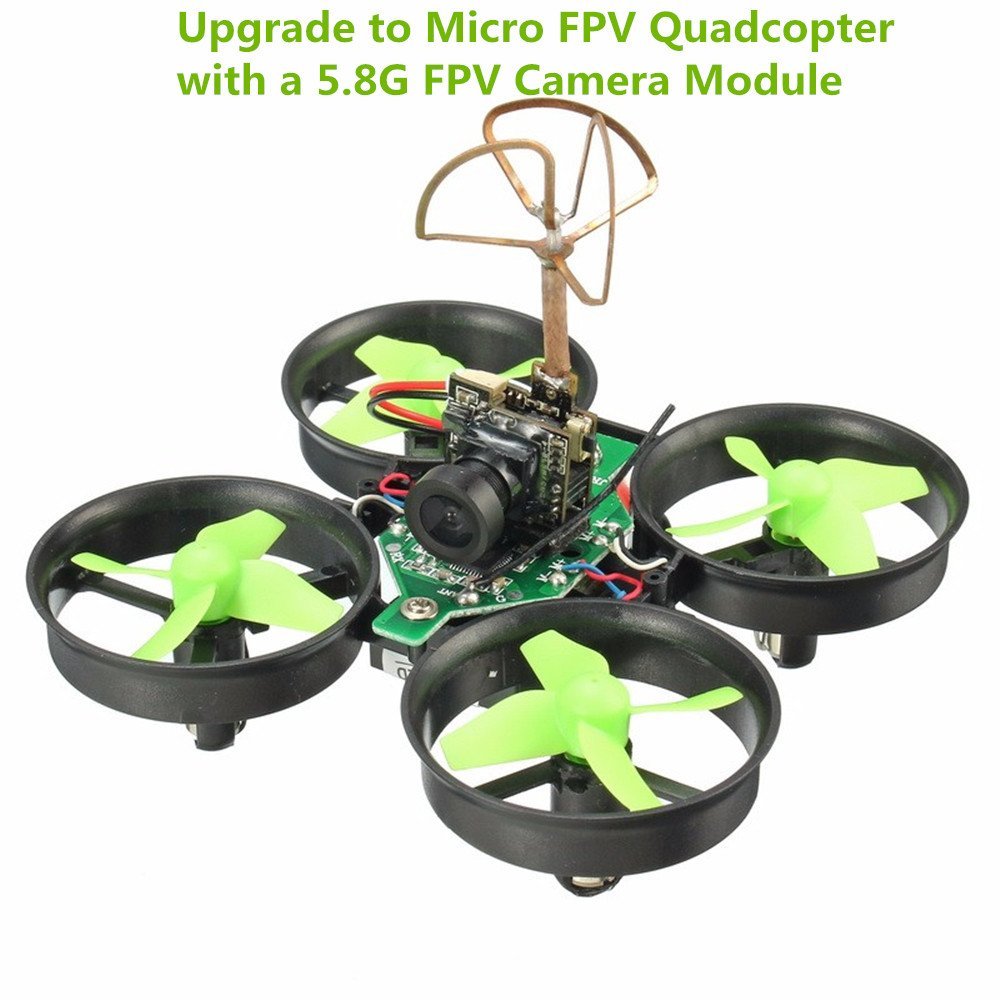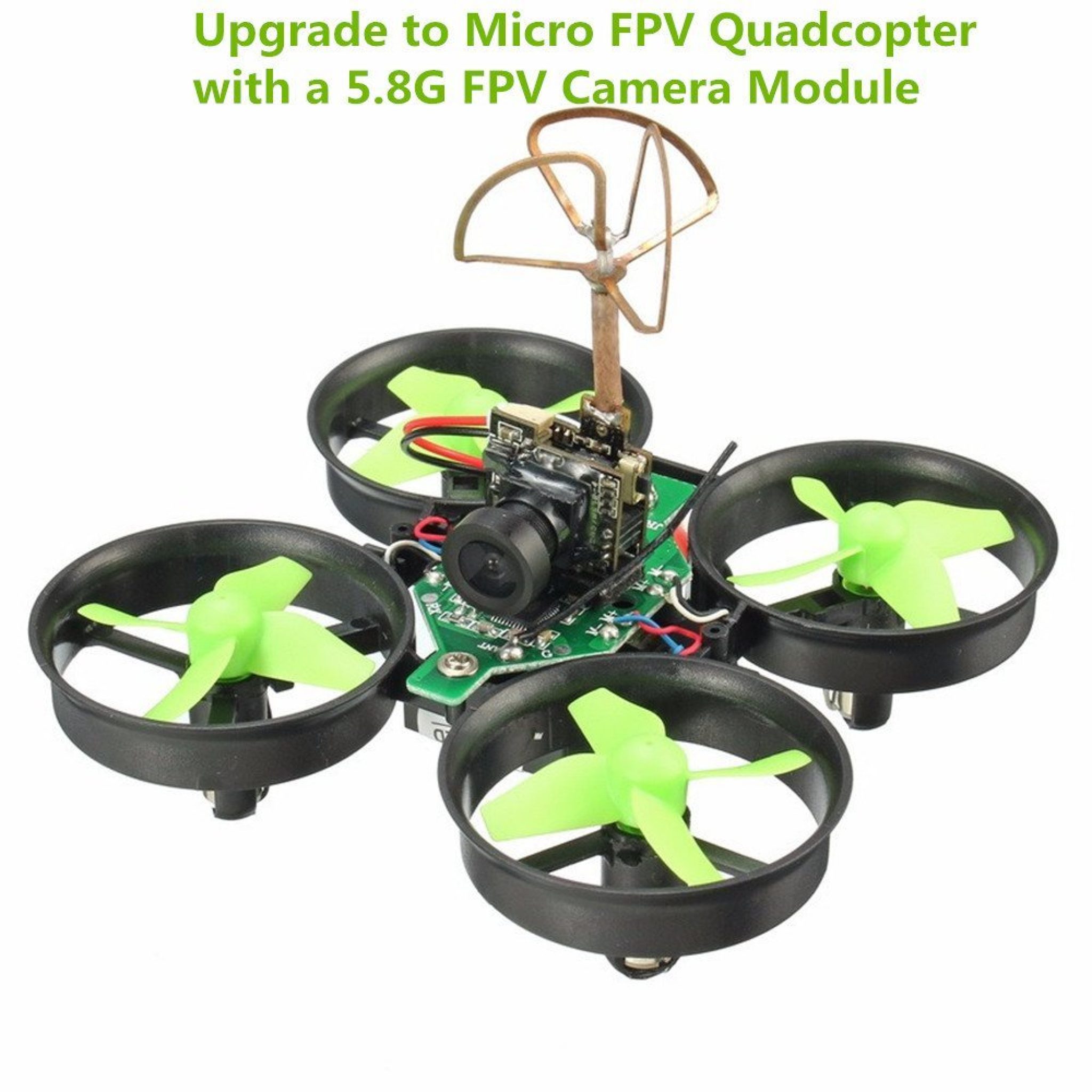 It is built with the latest 6-Axis Gyro technology. The controller can control the drone up till a range of 30 meters. It controls the drone with a 2.4 GHz frequency, charged by a battery of 150 mAh.
The controller has the usual control sticks and trim switches. It is a special button which allows the user to toggle between slow and fast speed rates. The controller also allows the user to bring back the drone with a single touch. It also has a warning system to show when it has low charge during flying.
Is the Eachine E010 Mini UFO Quadcopter drone worth the money?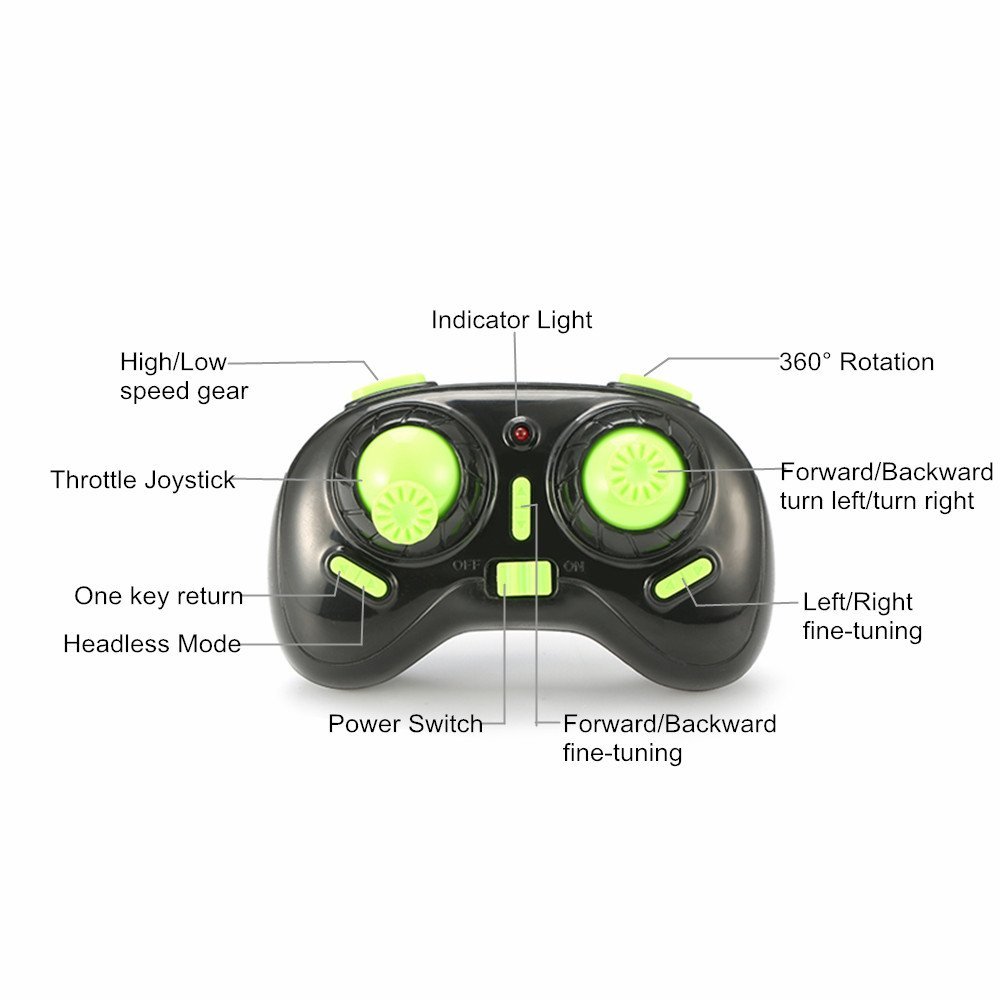 The mini drone is a pretty good toy to have some fun family time. If you are ever bored with the same acrobatics that the drone can perform, simply attach a camera to increase the fun by ten folds. You can take some really creative video in your next outdoor setting. Then again, the short battery life might worry you, which is not an issue with 6 batteries it comes with. So, you can simply swap the battery for extended flight.
Here are some other features that make it a stand-out among all the other drones of the similar criteria: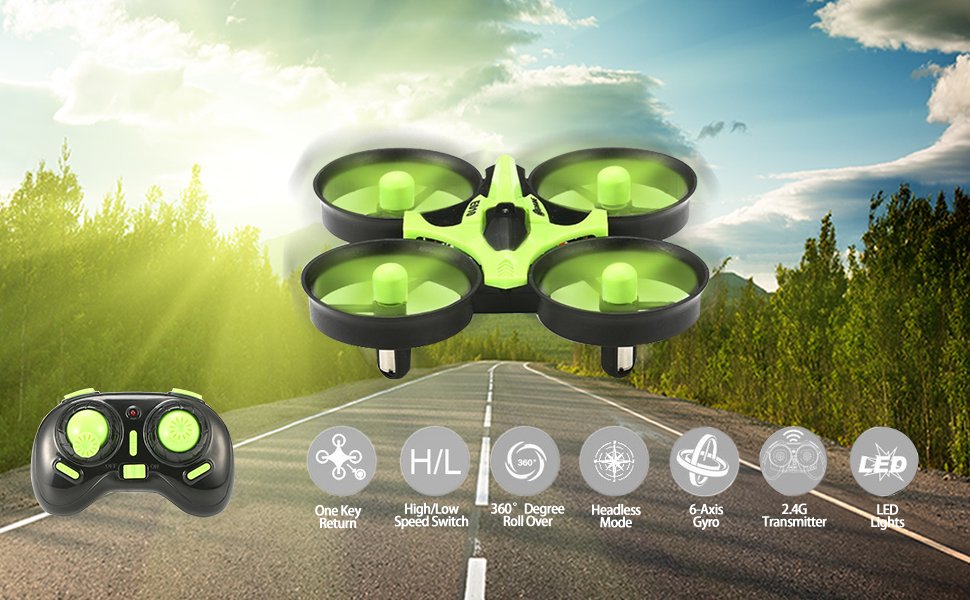 It has dual LED lights which make it very easy to figure out the front and back end of the drone.
The set comes with a USB charging cable that charges your drone in just 30-50 minutes. The set also has four extra propellers that can replace any propeller that might face wear and tear.
The drone also has protectors that give additional security to the propellers.
Click here to know the price for which you can buy it now!