AUKEY has come out with a pocket-sized drone that is extremely lightweight and perfect for beginner drone pilots. Their latest UA-P01 mini drone is a perfect combination of modest pricing and quality. This drone is very easy to maneuver and it flies at different speed settings so as to ensure that beginners do not have a hard time with it.
Having said that, it is imperative to note that this drone is not meant for professional purposes or for excellent quality aerial photographs. This drone is a perfect product for those who want to get started with flying drones.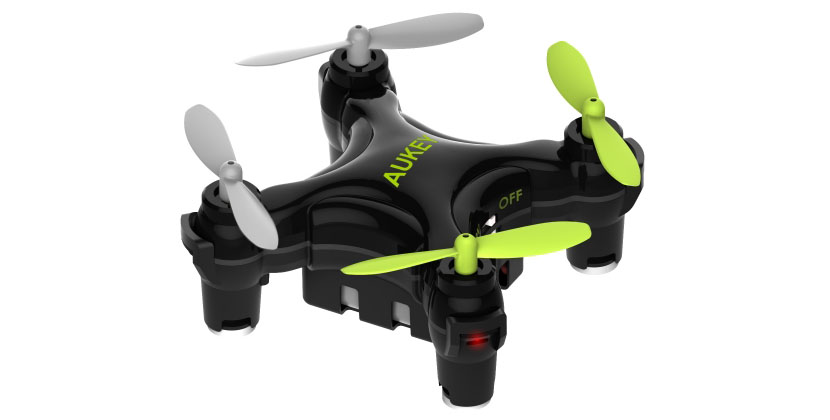 Primary Specifications
| | |
| --- | --- |
| Control Range | 50 meters. |
| Flight Duration | 7 minutes. |
| Recharge Duration | 15 minutes. |
| Warranty | 24 months. |
| Battery | 300 mAh Li-Po. |
| Frequency | 2.4 GHz. |
| Camera | No. |
| Ready to Fly | Yes |
| Remote Control | Yes |
| Age | 14 and above |
| Dedicated App | No |
| FPV | No |
| Flashlight | No |
| Headless Mode | No |
| Indoor/Outdoor | Both |
| FAA Registration | Not required |
| VR Headset Compatibility | No |
| 360 Degree Eversion | Yes. |
Build and Design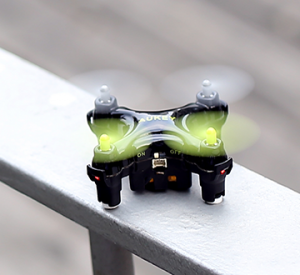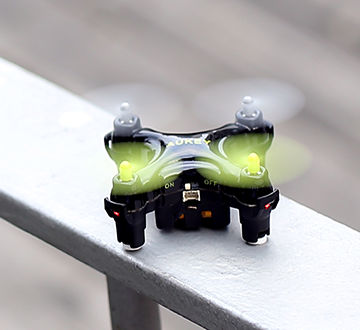 The frame build of AUKEY UA-P01 mini drone is surprisingly sturdy considering its dimensions. Its build is primarily made up of hardened plastic, along with yellow and grey propellers. This mini drone also has a couple of LED indicators at the back of the body which is great for navigating in the dark. It weighs only 3.2 ounces so you can imagine how lightweight the material is.
As far as its dimensions are concerned, the drone measures 116 mm x 98 mm x 70 mm. The body has been designed with such subtlety that it makes this drone easily fit into pockets. The package also comes with 4 spare propellers that can be used as backups in case of slight wear and tear.
Flight Experience
The flight experience for this AUKEY UA-P01 mini drone is pretty decent considering its low price point. The drone is very easy to maneuver in air despite its small size. It can easily handle slight changes in wind patterns and other minor obstructions while flying outdoors. It can fly pretty great indoors and can maneuver around small enclosed spaces very well.
In addition to that, this UAV drone offers 3 different flight settings for pilots who are just starting out at drones. These 3 settings refer to the beginner, intermediate and expert levels of flying drones, so you can easily stabilize your drone better by flying in the beginner settings. Despite its small size, this drone features a 6-axis gyroscopic sensor that has an effective range up to 82 feet.
Unique Features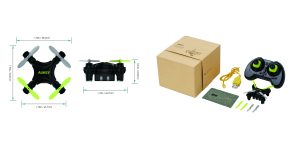 As far as the unique features of this AUKEY UA-P01 mini drone is concerned, there are a few salient aspects of this model that requires a close look. What are they? Let's take a look
This drone is surprisingly stable during rough weather conditions. This makes it a great first drone to get.
The controls for flips, throttle and spin are very easy to get hold of. Doing 360-degree flight eversions may take some practice.
This model comes with a 24-month warranty period which suggests of great quality.
It does not support headless mode, but holding both of its joysticks at the same re-calibrates the drone pretty easily.
Remote Control
The remote control for this AUKEY UA-P01 mini drone is pretty decent and basic. Above the remote, there are 3 different flight options that improve the stability and performance of your drone. In addition to that, the controls feature a couple of standard joysticks which are used to fly the drone. Apart from that, its 2.4 GHz transmitter offers excellent response timings, and the drone is pretty responsive to changes mid-flight. The remote also features a dedicated One Start/Stop Button which is used to avoid sudden falls and abrupt starts. Its battery charges very fast, and its flight time is pretty comparable with a good battery life.
Value for Money
If you are considering to purchase AUKEY UA-P01 mini drone, you should remember that this is an entry-level drone which does not support a camera. However, it can perform various functions of a pricier quadcopter and is a great entry-level drone in the market. As of its price, it is available for less than $30 USD in Amazon. So, under that price range, this model is a great catch.
You should purchase AUKEY UA-P01 mini drone if you are looking for
Getting started with drones.
Just having some fun.
Gifting as a toy to kids or teenagers.
Since it is not an expensive product, this mini drone can serve as an excellent gift option for young adults or teenagers for any special occasion!
Click here to know the price for which you can own an AUKEY UA-P01!