The Force1 U45W Blue Jay is even more fancy than it sounds, with the new upgrade which introduces VR compatibility, and Wi-Fi Front Person View feature. It has a headless mode, 360 eversions, navigation LED lights and a lot more! You'd naturally think that this could be only flown by experienced professionals, but you're wrong- this is a great product for beginners as it comes with the altitude hold function!
Not only is the drone stable for flying, but for aerial shots as well, which produce top notch still photographs!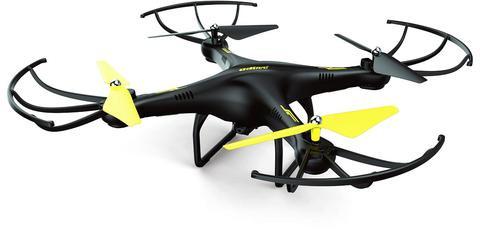 Primary Specifications
| | |
| --- | --- |
| Control Range | 90 – 100 Meters |
| Flight Duration | 5 – 7 Minutes |
| Recharge Duration | 40 – 45 Minutes |
| Warranty | 30-day manufacturer's warranty |
| Battery | 3.7V 500mAh Lithium battery |
| Transmitter Frequency | 2.4 GHz |
| Camera | Yes, 2 Mega Pixels |
| Video Feed | 1280 × 720, at 30 Frames Per Second |
| Ready to Fly | Yes |
| Remote Control | Yes |
| Age | 14+ |
| Dedicated App | Yes |
| FPV | Yes |
| Flashlight | No, but navigation LED lights |
| Headless Mode | Yes |
| Indoor/Outdoor | Both |
| FAA Registration | Not Required |
| VR Headset Compatibility | Yes |
| 360 Degree Eversion | Yes |
Flying Experience


The Force1 U45W drone exhibits excellent flight features. It can do just about anything, and is a smart drone to fly. It has the altitude hold function, which means when you're flying with it and you let go of the remote controller, the drone will stay at that height and auto balances itself against wind, which lets you concentrate on taking that picture-perfect shot!
It does flips, rolls which are enabled using 360-degree eversion, and features the headless movement- you don't have to worry about direction of your drone (forward on your remote, moves it forward no matter what orientation!). You can also create your own custom flight route on the app- you can thus concentrate on picture taking!
Build and Design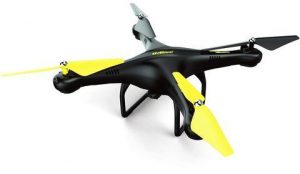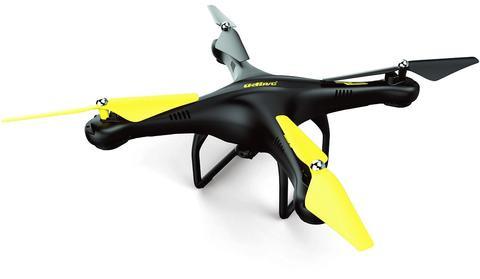 Not only is the Blue Jay smart, it is also super sleek, and stylish with its black body and cool blue blades! It weighs just 0.28 pounds! It takes about 45 minutes to charge, and flies for a maximum 7 minutes. It has 4 LED lights, 2 green and 2 red, which are excellent for night flight and navigation, along with indication! The body is durable, and the drone is packed with features for the camera and easy flight. The best part is that it is easy to control, and transferring image and videos to your smartphone has never been this easy- the drone connects with your phone directly!
There is also a 4 GB storage SD card and a reader, to store everything captured during multiple flights! You could also use the SD card to transfer the files- although this would be more tedious. The drone can go up to 400 feet off the ground, enabling a panoramic range for the camera.
Camera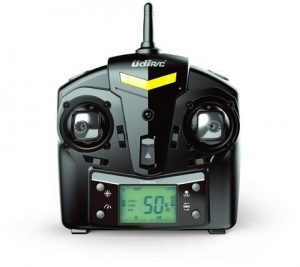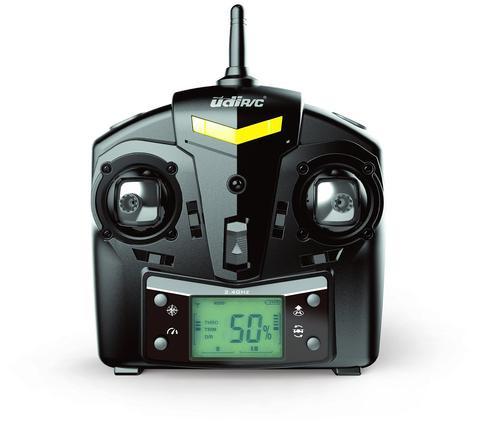 The drone is incorporated with a 720p HD video camera. The resolution is 1280 x 720p, which captures clear defined photos- helped by the stability of the drone! On syncing the 2MP camera with your controller, you can witness the live video stream of your camera (FPV) at 30 frames per second. The camera is ergonomically placed in the middle of the drone, and is covered by a layer of protection.
As mentioned earlier, it has FPV, which lets you stream live video feed off the camera so you can see where your drone is going, and beginners can learn to take pictures this way, for it is easier. It is also VR compatible with any Virtual Reality headset- watch what your drone sees, come to life with this super cool feature! It has Wi-Fi connectivity for VR and FPV, which will give you uninterrupted streaming. It can also connect to your smartphone's hotspot!
Remote Control
The remote control has a control range of 100 meters, and remains connected, up to 400 feet from the drone in height. With just a touch of a button, you can take off- which hovers at an altitude, and land with another. It has buttons for headless mode, take off, landing. It connects with an iOS or Android smartphone, which has the app downloaded. The phone screen is user for live streaming, and can be used to determine the custom route for flying, and gravity induction mode.
Is the Force1 U45W Blue Jay Drone Worth the Money?
Being the highest selling drone in the market, with utmost customer satisfaction, this quad copter tops all charts! Its design is A plus, and so are all its numerous features. Its recently upgraded capabilities to include VR, and FPV make it the best budget friendly drone to ever exist in this decade! The box comes with the following things-
The U45W Drone
Two, 3.7V 500mAh Batteries
4GB SanDisk Micro SD Card and Reader
Power Bank
USB charger for battery
4Ghz Remote Control Transmitter
Four Extra Propellers
A Screwdriver
A User Manual for set up and camera, along with connectivity for app.
Clearly, this drone beats others out of the competition, and is suitable for beginners, amateurs as well as experienced flyers.
Click here to know the price for which you can buy it now!