Hubsan X4 Quadcopter has been a defining name in the quadcopter industry for beginner flyers. As a beginner who wants to get involved in drones, there is hardly a better choice than Hubsan X4 Quadcopter. However, considering its price point and available features, it is quite accurate to say that Hubsan X4 Quadcopter provides the best experience to a beginner when it comes to flying for the first time in the open space.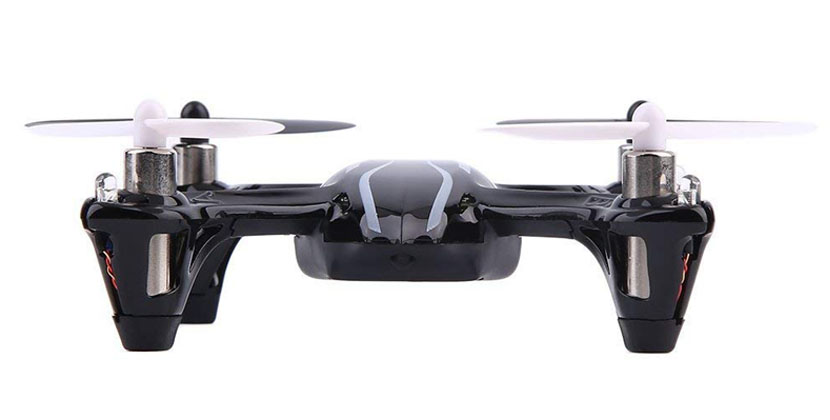 Primary Specifications
| | |
| --- | --- |
| Control Range: | 50 to 100 meters |
| Flight Duration: | 7 to 9 minutes |
| Recharge Duration: | 45 minutes |
| Warranty: | 30 days |
| Battery: | 3.7 V 380 mAh Li-Po |
| Frequency: | 2.4 GHz |
| Camera: | Yes. 0.3 MP |
| Video Resolution: | 720 x 480 pixels at 25 frames per second |
| Ready to Fly: | Yes |
| Remote Control: | Yes |
| Age: | 14 and above |
| Dedicated App: | No |
| FPV: | Yes |
| Flashlight: | No |
| Headless Mode: | No |
| Indoor/Outdoor: | Yes |
| FAA Registration: | No |
| VR Headset Compatibility: | No |
| 360 Degree Eversion: | Yes |
Build and Design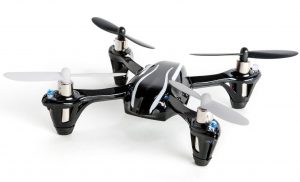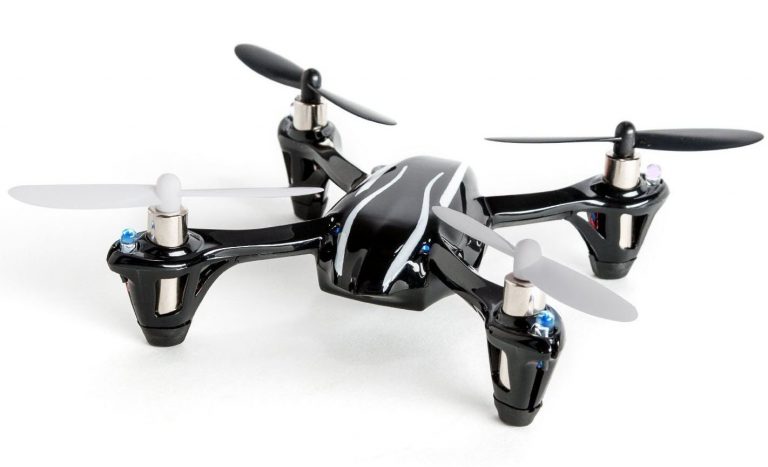 As far as the build-quality of Hubsan X4 Quadcopter is concerned, it is imperative to say that it is one of the smallest drones in the market. Its dimensions are 3 inches wide and 1 inch tall. Without the battery, it weighs less than 0.5 pounds, so no FAA registration is required to fly this drone. The construction of its basic design is made on a lightweight plastic frame. The frame is quite sturdy under normal conditions, and the drone flies pretty well outdoors without too much wind resistance. Its airframe has been revamped in the latest iteration of this model to include better outdoor activity under harsh conditions.
Flight Experience
Flying this Hubsan X4 Quadcopter is certainly going to be a treat for everyone. This drone will surprise you with its 6 axis gyroscopic controls that makes this unit pretty stable during flight. In addition to that, it also includes adjustable gyro sensitivity so that beginners can make their drone less sensitive to sudden changes in flight. The control range for this unit is excellent as you can control your drone from a distance of 50 to 100 meters above air.
The average flight duration for most of the flights under normal conditions range from 7 to 9 minutes. This drone also supports 360-degree flips and rotations with a smooth transition in between them.
Camera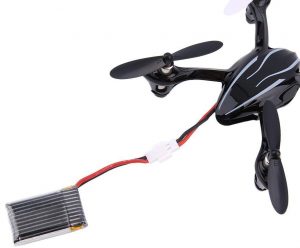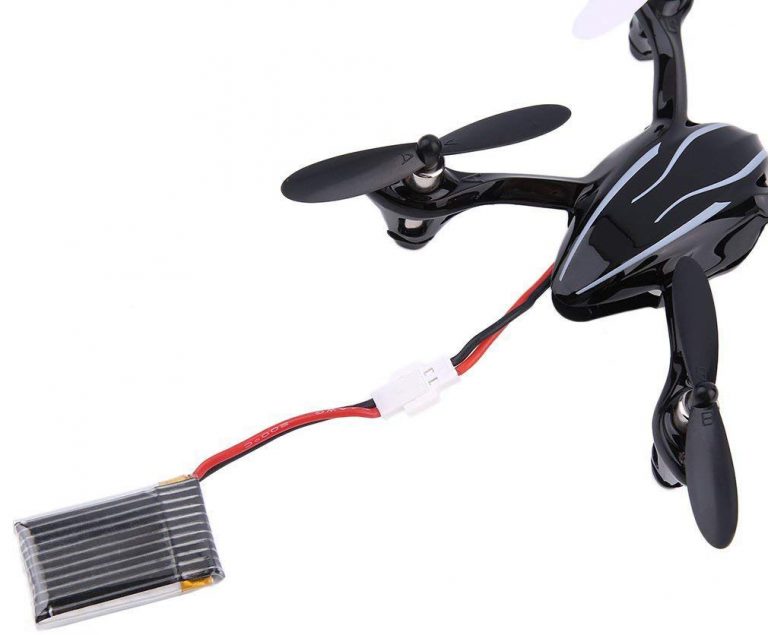 This Hubsan X4 Quadcopter comes equipped with a 0.3 MP HD camera which is not the best camera quality found in the market, but it yields good results. Video recording can be done very easily, and this unit supports a recording resolution of 720 x 480 pixels. The quality of the video is pretty decent, and it records at 25 frames per second. There is a red LED indicator on the drone which shows the status of video recording by blinking continuously. Storage options for the recordings includes a micro SD card slot which can be found at the back of the drone.
Remote Controls
The remote-control options for Hubsan X4 Quadcopter is pretty sleek to look at. It looks like an adulterated PS3 controller with a large 4.3 inches LCD screen on the top. This displays important statistics or logistics regarding your flight. In addition to that, complete FPV immersion is made possible with this screen. It also displays the throttle position of your drone so that you can adjust its sensitivity on the go, without having to worry about losing connection. Its 4
channel 2.4 GHz transmitter improves the effective range of your quadcopter.
Value for Money
The Hubsan X4 Quadcopter is a great first drone. It provides all the necessary ingredients that make a complete drone, but it does so in a very affordable price range. Even though its small size can be an issue during windy conditions, but this drone is available for less than $50 USD in the market. You can preview your videos instantly on its LCD display, and this drone can serve as a great entry level learning tool for beginners. It comes with 4 spare propellers so that you do not need to purchase additional propellers in the future. In addition to that, it also has a prop guard which helps to protect the propellers from wear and tear.
You should get the Hubsan X4 Quadcopter if you are interested in:
Learning to fly drones as a beginner.
Experimenting with smaller drones indoors.
This Hubsan X4 Quadcopter is a great first purchase for any beginner who want to have some fun while learn to fly an actual quadcopter. So, if you are on the fence about this product, go for it – it is worth it!
Click here to know the price you can buy it for now!