Kidcia produces excellent quality low budget drones and quadcopters for younger kids. Their RC quadcopter is available at a very modest price but it consists of a lot of intricate functionalities that are not even found on pricier models.
This quadcopter brings in some new detailed changes to its design, along with introducing 3D video recording support at such a low price point.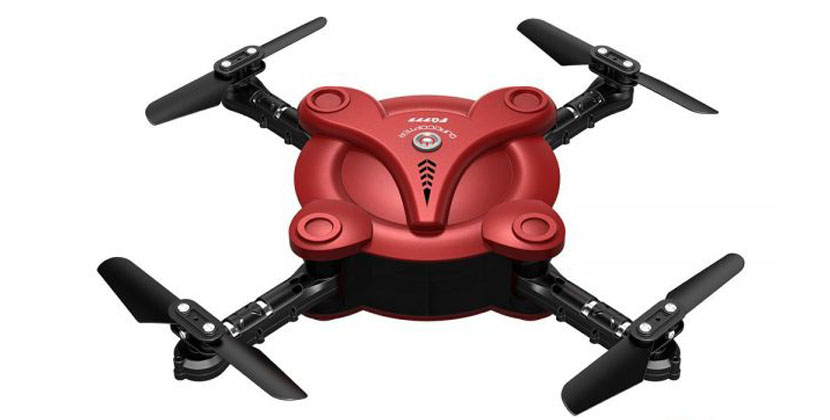 Primary Specifications
| | |
| --- | --- |
| Control Range | 50 to 80 meters |
| Flight Duration | 7 to 10 minutes |
| Recharge Duration | 45 to 60 minutes |
| Warranty | 30 days |
| Battery | 2 x 3.7 V 300 mAh Li-Po |
| Frequency | 2.4 GHz |
| Camera | Yes. 0.3 MP |
| Video Resolution | 1280 x 720 pixels. |
| Ready to Fly | Yes |
| Remote Control | No |
| Age | 14 and above |
| Dedicated App | Yes. Both iOS and Android |
| FPV | Yes |
| Flashlight | No |
| Headless Mode | No |
| Indoor/Outdoor | Both |
| FAA Registration | Not Required |
| VR Headset Compatibility | No |
| 360 Degree Eversion | Yes |
Build and Design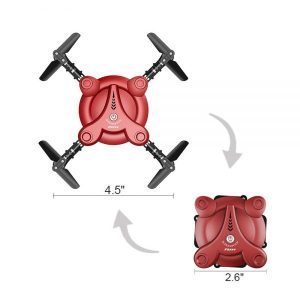 As far as the build design for Kidcia's RC quadcopter is concerned, its latest iteration has had a lot of detailing done. The complete body of the drone is made up of hardened plastic so its frames are quite sturdy to begin with. In addition to that, it also comes with foldable aero folds which makes the complete flying experience much better, as well as allows you to store the drone in a smaller space than most others.
The quadcopter is available in 2 distinct colors – Black and Red. The blades of this model are also flexible and foldable, thus making the drone small and portable under ordinary circumstances. It comes equipped with LED lights which are very useful to navigate the drone if you are flying it at night.
Flight Experience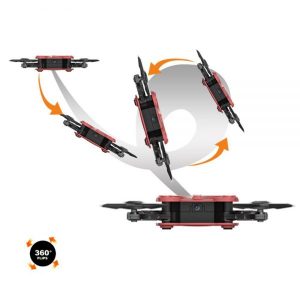 When it comes to flying this Kidcia's RC quadcopter it must be said that this unit flies very smoothly. It has been made keeping beginners and kids in mind, so Kidcia offers 3 different speed settings at 30%, 60% and 100% rotor speeds. This makes this drone far easier to fly than most professional quality quadcopters. It also smoothens the learning curve of piloting a drone. Its 6-axis gyroscopic sensor is based on 4 channels, and the predefined Gravity Sensor Mode stabilizes the drone mid-flight.
Apart from that, this unit comes with designed cushions attached to its landing pads. This makes landing the drone far easier and smoother without worrying about the safety of the unit. Its different speed settings also make this drone very stable during strong winds. So, you can fly this drone outside very easily on a windy weather. Upon further testing, this drone could easily do the 360-degree flips and turns with a single button.
Camera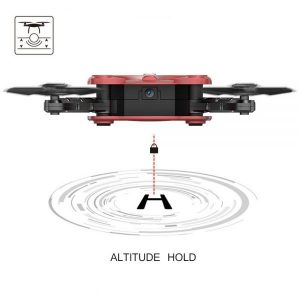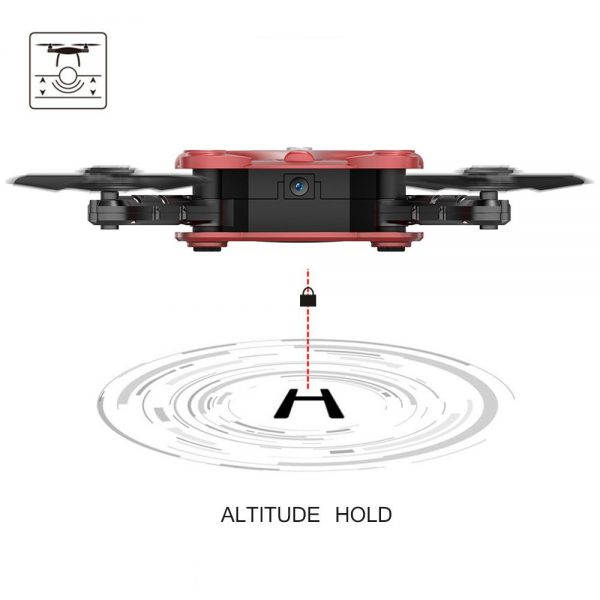 Kidcia's RC quadcopter is equipped with a 0.3 MP camera which supports 3D video capture. It supports real time video capture with FPV settings. The video resolution on capture is 1280 x 720 pixels at 25 frames per second. The camera is mounted on the quadcopter so its position can be slightly altered and it can also be reversed very easily.
Remote Controls
There is no separate remote-control unit that comes with this quadcopter. Instead, Kidcia has a dedicated app for both Android and iOS users which functions as the controls for this drone. The unit uses Wi-Fi technology to connect to your smart phone, and the drone can be directly controlled using your smart phone. Various functional buttons can be added to your controls – there is even a predefined option for emergency landing.
This drone also has a single key takeoff and landing on its controls which makes flying this quadcopter much easier. The controls are located directly on your smart phone, and it is quite responsive with its 2.4 GHz frequency control bandwidth.
Value for Money
Kidcia's RC quadcopter is currently available on Amazon for $39.99. Under $40 USD, this is by far the most adept RC quadcopter that you can find. In addition to its user-friendly settings, this unit is pretty sturdy and flies very well under normal circumstances. Harsh weather conditions can be navigated very well using this drone. It flies at a steady altitude range and has flexible accessories which make it very portable to use and carry around.
So, you should definitely get this product, if you are
Starting as a beginner in flying drones.
Looking to have fun.
Want to gift your child something for Christmas.
This Kidcia's RC quadcopter serves as an excellent gift for kids and is perfectly safe drone which is guaranteed to provide you with lots of fun!
Click here to know the price for which you can buy one now!