Top Race has been in the droning market for quite some time, and they are known to produce excellent quality mini drones for their customers. This latest Top Race TR-Q511 quadcopter is no exception to that. It is a very fast drone that is also quite stable. It can operate very well in the harshest of conditions, and its lightweight frame is quite sturdy and aerodynamically stable during flight.
You will have very little issue flying this quadcopter outside as it features a headless mode which makes flying this drone much easier.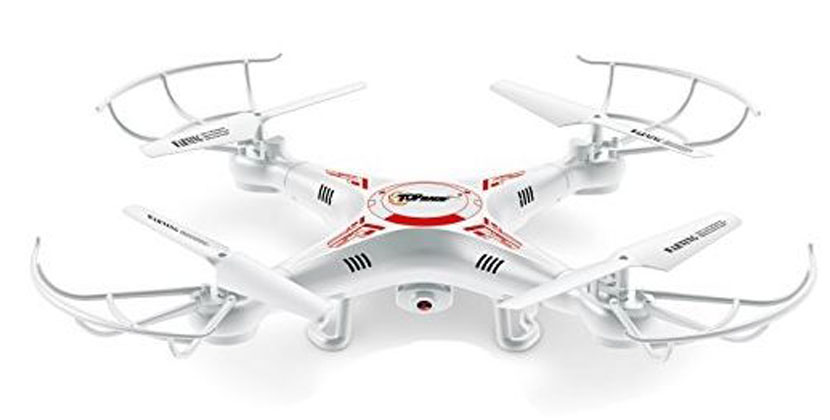 Primary Specifications
| | |
| --- | --- |
| Control Range | 50 meters. |
| Flight Duration | 7 to 9 minutes. |
| Recharge Duration | 90 minutes. |
| Warranty | 30 days. |
| Battery | 600 mAh Li-Po. |
| Frequency | 2.5 GHz. |
| Camera | Yes. HD camera. |
| Video Resolution | 720 x 480-pixels resolution. |
| Ready to Fly | Yes. |
| Remote Control | Yes. |
| Age | 14 and above. |
| Dedicated App | No. |
| FPV | No. |
| Flashlight | No. |
| Headless Mode | Yes. |
| Indoor/Outdoor | Both. |
| FAA Registration | No. |
| VR Headset Compatibility | No. |
| 360 Degree Eversion | Yes. |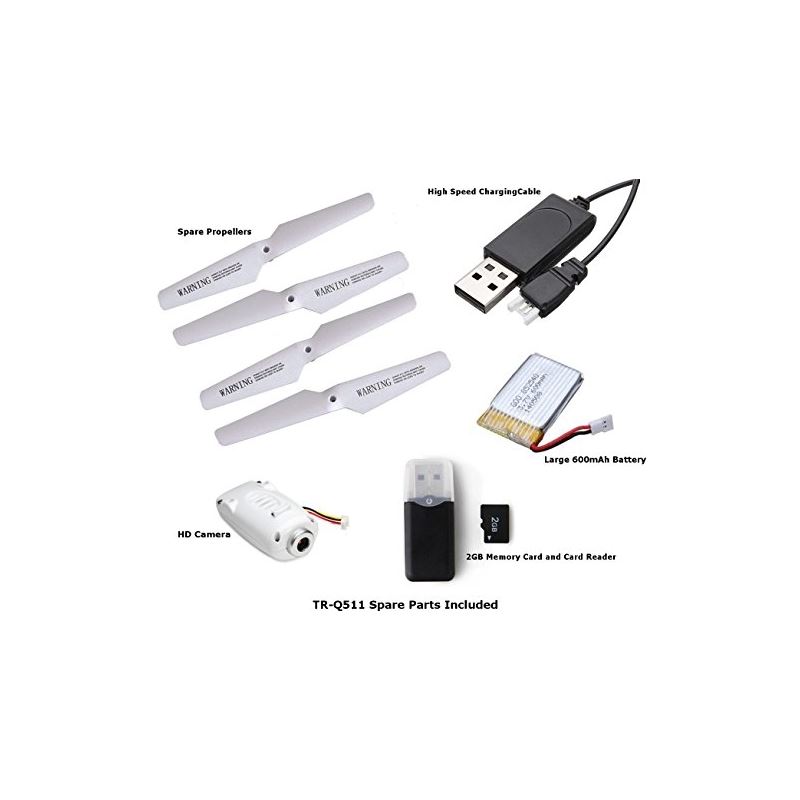 Build and Design
As far as the build quality of Top Race TR-Q511 is concerned, it should be noted that the frame is made of plastic, which is pretty common for mini drones. However, the structural frame is very lightweight, making it fly pretty fast in proper conditions. The package also contains additional propellers for beginners. These propellers are made of malleable plastic which makes them quite sturdy under windy conditions.
The whole unit weighs less than 0.55 pounds so you do not need any kind of FAA Registration to fly this quadcopter. Its HD camera can be detached from the main body of the drone which opens up various customization options. Its battery cover is pretty decent and there is ample room to connect your battery to its body.
Flight Experience
The flight experience for Top Race TR-Q511 has been pretty good. Since it is a small drone, it can be flown both indoors and outdoors. Using the remote, its effective range is around 50 meters. Its 6 axis gyro function makes it very stable during flight. This unit can hover during flight very swiftly, and its headless mode feature makes it very easy to just pick up and fly.
During testing, the average flight time for this unit is around 7 minutes, although strong weather conditions can affect that. What is best about this drone is the fact that it is very portable when it comes to flying anywhere. Due to its sturdy frame, it can fly effortlessly in windy conditions, and does it better than most drones in the market.
Camera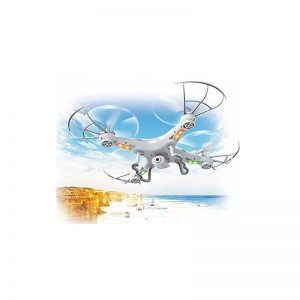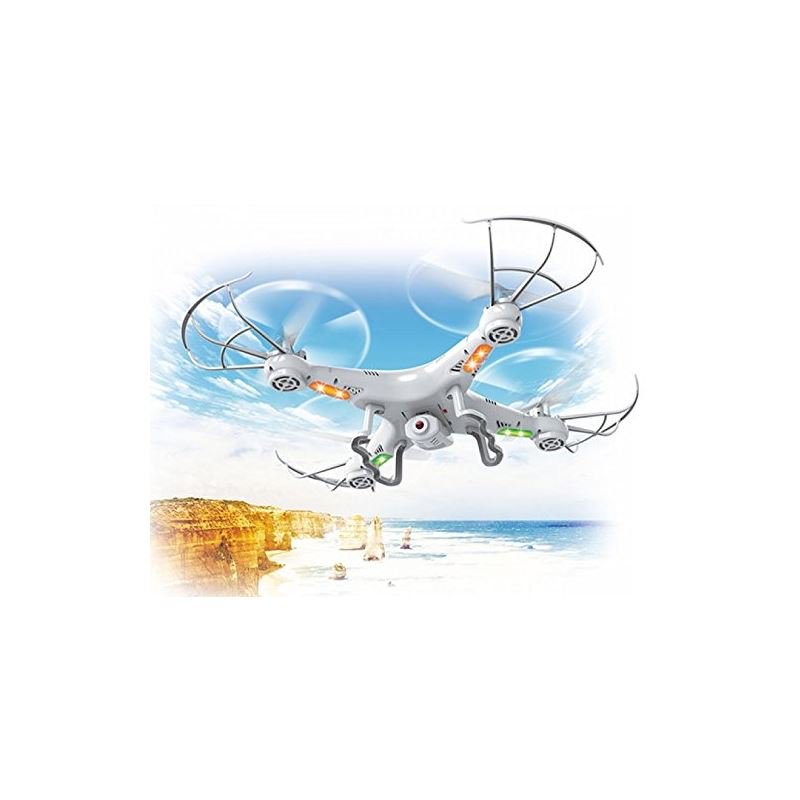 The Top Race TR-Q511 quadcopter has a detachable HD camera which functions pretty well when it comes to aerial photography. The camera module can be easily detached, thus making way for further customizations and upgrades to its camera. In addition to that, video recording is quite good, recording at 720 x 480 pixels' resolution. Although there are some issues with night photography, aerial photographs from the drone during the day looks pretty amazing.
Remote Controls
This Top Race TR-Q511 drone features one of the best remote controls in its price range. Its 2.4 GHz transmitter is very effective in controlling the drone from a distance. The controls are very responsive, even at maximum control range. In addition to that, its remote controls have separate utility buttons which makes flying very easy for beginners. It has a single return home button that makes the drone fly back to you in no time. It also has a 360-degree eversion mode option that is capable of doing instantaneous flips and turns during mid-flight.
Value for Money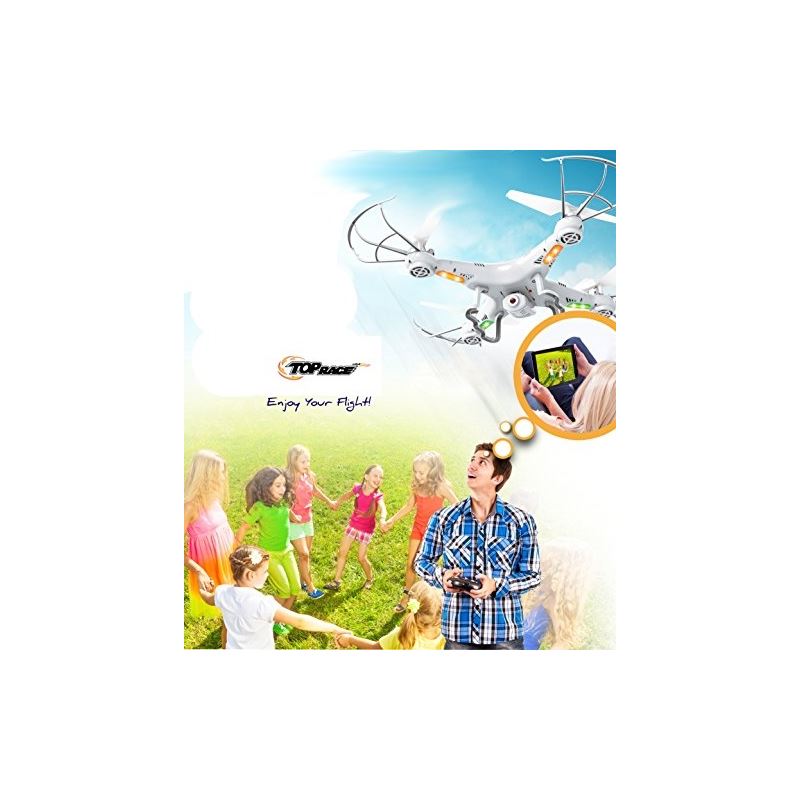 The Top Race TR-Q511 is one of the best drones you can find in the market under $60 USD. Thus it is fair to say that this drone comes with a host of features that are found in high-tier models. Hence, when it comes to value for money, you are certain to get a favorable return from purchasing this drone. It makes for excellent presents for teenagers or someone who wants to get started at flying drones. It has a manufacturers' warranty of 30 days and comes with quite a powerful 600 mAh battery.
You would like this Top Race TR-Q511 quadcopter, if you are:
Just getting started with drones.
Looking to have fun.
Looking for an affordable but stable quadcopter.
So, if you are considering purchasing your first drone, and want it to be stable then Top Race TR-Q511 is probably the best option in the market that comes under a modest price range.