If you are looking for an excellent pocket friendly drone for your hobby or profession, then you have certainly come across the fantastic UDI U818A Quadcopter. This model offers a diverse range of features that can excite many professional drone pilots, and satiate the need to have fun for casual drone users.
Primary Specifications
| | |
| --- | --- |
| Control Range | 30 meters |
| Flight Duration | 7-9 minutes |
| Recharge Duration | 120 minutes |
| Warranty | 30 days |
| Battery | 2 x 350 mAh Li-Po. |
| Frequency | 2.4 GHz |
| Camera | Yes. 2 MP HD |
| Video Resolution | 1280 x 720 pixels at 30 fps |
| Ready to Fly | Yes |
| Remote Control | Yes |
| Age | 14 and above |
| Dedicated Apps | No |
| FPV | Yes |
| Flashlight | No |
| Headless Mode | Yes |
| Indoor/Outdoor | Both |
| FAA Registration | Not Required |
| VR Headset Compatibility | No |
| 360 Degree Eversion | Yes |
Build and Design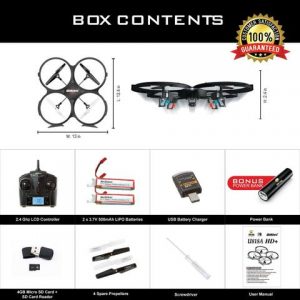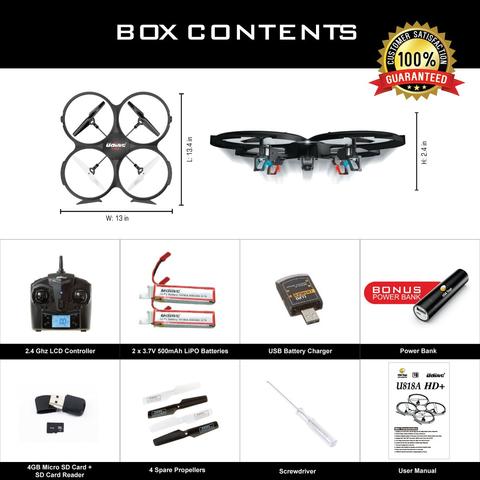 The build quality of UDI U818A Quadcopter is top notch. Considering its price point, the build of the product is quite durable and sturdy. The basic structure of this drone is modular in nature, but its powerful torque motors fly effortless in the air. In addition to that, the blades are protected by blade guards, protecting it from swift air current changes or during collisions.
The actual weight of this quad-copter is just below 4 ounces, and its full battery setup weighs around 5 ounces. Thus, this actual drone is lightweight and can easily be flown both indoors and outdoors. Its integrated design makes sure that its 6 axis gyro functions effortlessly with its inbuilt posture control feature. This helps to stabilize the drone in the air with minimal effort.
Flying Experience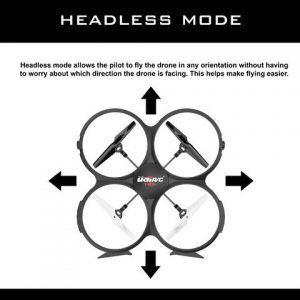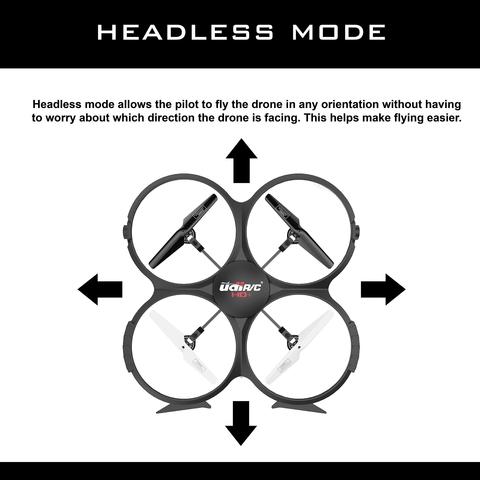 Talking about the flying experience with this UDI U818A Quadcopter, one thing should definitely be highlighted. The ease with which a non-drone user can fly this quad-copter is absolutely amazing. The controls and its associated drone movements are very responsive in nature, flying this drone feels very familiar in just the first try. It can successfully operate at a maximum range of 30 meters, and its average flight duration is around 8 minutes. It provides immense versatility in terms of flying both indoors and outdoors.
UDI has recently come up with "Return to Home" function in their drones which makes the re-flight much easier. Although it is smaller in size compared to some of the drones in the market, it produces great flair in terms of its flying experience. What is even more fun is to check out its 360 degree eversion in action. It has 2 different flying modes – the flight mode 1 is for maximum stability, while the flight mode 2 is for 3D expert controls.
Camera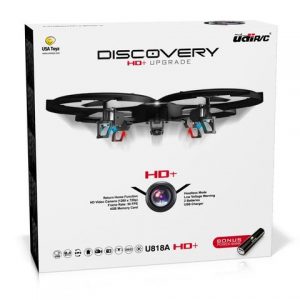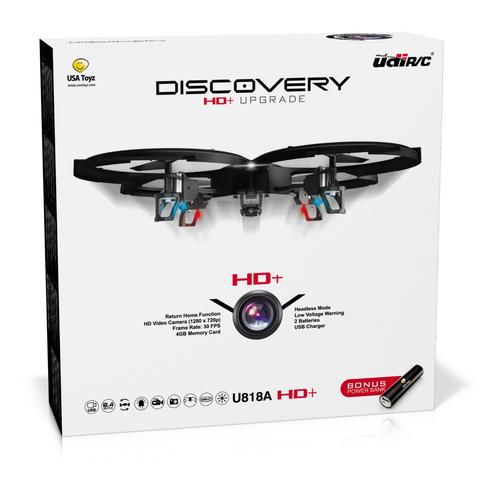 This UDI U818A Quadcopter comes with a forward-facing camera that allows you to take stunning images from above. It supports full HD so you can easily take HD photos. HD video recording is enabled in 1280 x 720 pixels resolution, at 30 frames per second. This drone also supports full first-person view. You can also store your pictures or videos in a 4 GB SD card that is already provided for storage. The quality of these videos and pictures is pretty decent. In addition to that, there is also provision to directly control your camera angles from your remote controller.
Remote Control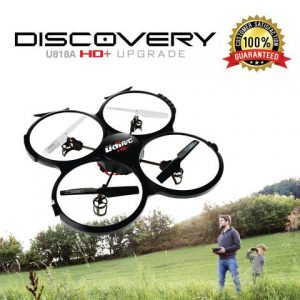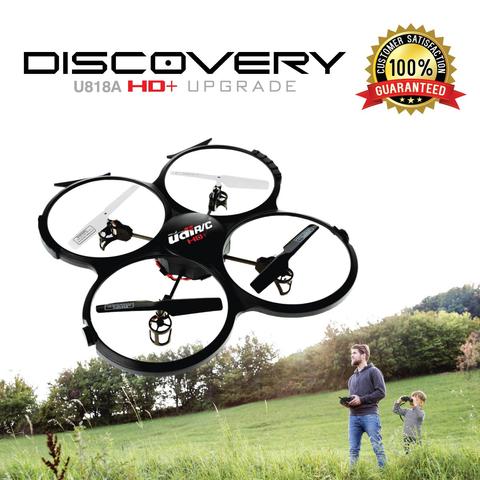 The controller of UDI U818A Quadcopter is responsive and quick. It contains a LCD screen which displays complete status of your flight. Along with that, the controller has 2 joysticks that are used to maneuver the drone. There is also a "photo button" and a "video button" that helps to capture photos and videos. A separate "roll button" is present to do an instant 360-degree roll. Additionally, there are separate controls for trim and flight modes as well.
Value for Money
This UDI U818A Quadcopter aims to be quite perfect for any beginner or amateur drone pilot. Its 4-channel, 6-axis Gyro makes for excellent flights, and the whole drone can be easily recharged in just 120 minutes. So as far as value for money goes, this is an excellent choice.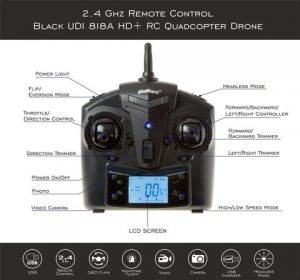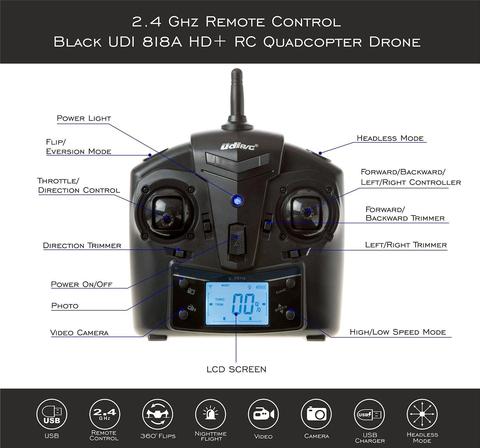 UDI U818A Quadcopter should be your first drone choice, if you are:
New to piloting drones or aerial photography.
An amateur or a teenager who wants to begin with aerial photography.
So, no matter how many options there are, this UDI Quadcopter is certainly a catch for you!
Click here to know the price you can buy it for now!