If you are looking for a premium flagship drone that will satiate your aerial photography hobby, then YUNEEC has the perfect product for you. Previously, YUNEEC has come up with their line of premium drones – the Typhoon Series. These drones are produced and marketed as professional quality flying units.
The latest model of this series is a revamped Q500 Typhoon 4K quadcopter that comes with a 4K Ultra HD camera, and all the necessary features to make this quadcopter a powerful beast in the sky.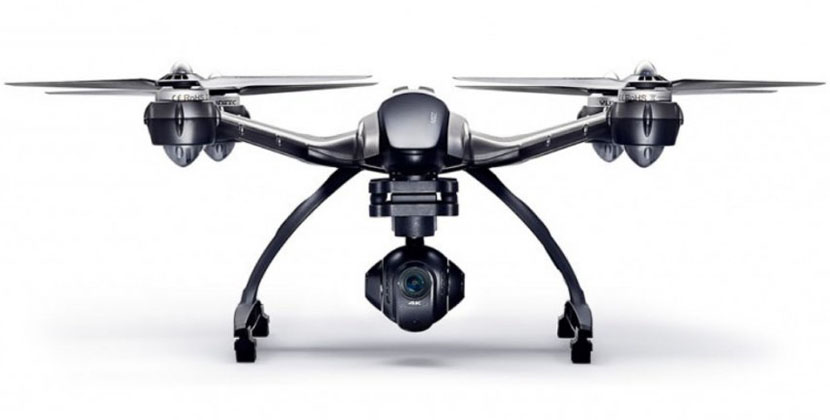 Primary Specifications
| | |
| --- | --- |
| Control Range | Up to 800 meters. |
| Flight Duration | 25 minutes. |
| Recharge Duration | 90 minutes. |
| Warranty | 1 Year Manufacturer's Warranty |
| Battery | 3S 11.1 V 5400 mAh Li-Po |
| Frequency | 2.4 GHz |
| Camera | Yes. 12 MP. Ultra HD |
| Video Resolution | Yes. Full HD 4K resolution at 30 FPS |
| Ready to Fly | Yes |
| Remote Control | Yes |
| Age | 14 and above |
| Dedicated App | Yes. iOS and Android |
| FPV | Yes |
| Flashlight | No |
| Headless Mode | Yes |
| Indoor/Outdoor | Both |
| FAA Registration | Yes |
| VR Headset Compatibility | No |
| 360 Degree Eversion | Yes |

Build and Design
One of the most important aspect of this YUNEEC Q500 4K Typhoon drone is its sturdy and durable frame. Since it is a professional quality quadcopter, the size of this drone is pretty big. As far as its dimensions are concerned, it measures 420 mm x 420 mm x 210 mm. So you can easily imagine its improved construction. The drone legs are pretty stable in rugged terrain. It weighs 3.8 lbs. with the complete setup, so pilots do require FAA registration to operate this drone in public space.
In addition to that, this drone also has 4 separate foam pads that cushion the landing. It also prevents wear and tear on its legs. Apart from this, the body is made up of aluminum alloy and considering its price point, its build quality is pretty top notch and durable
Flight Experience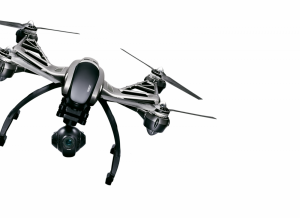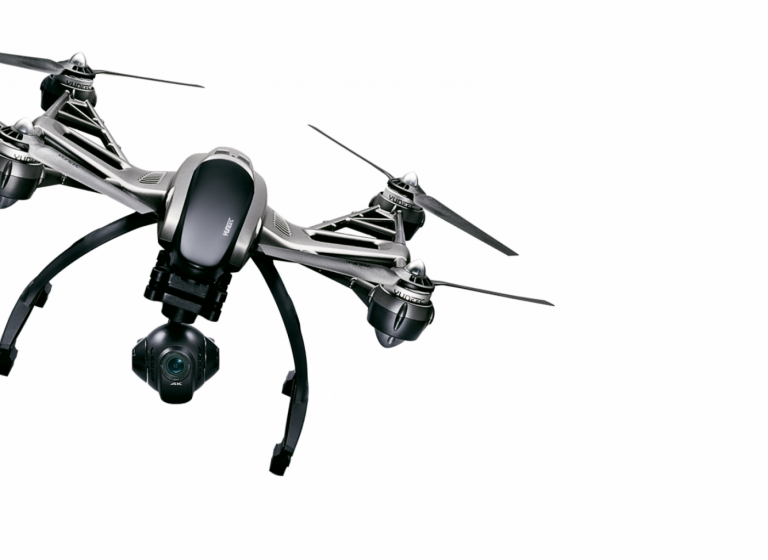 As far as the flight experience of YUNEEC Q500 4K Typhoon is concerned, this quadcopter includes several smart mode options that make it a whole lot smoother. Average flight time for this unit is around 25 minutes which is pretty decent, considering its 5400 mAh battery. The drone's GPS tracking is very effective, even at long distances. So, it can hover effortlessly in the air without any help from the pilot.
The 3-different flying mode includes a Follow Mode which makes the drone follow the controller, a Watch Me Mode which makes the drone fly autonomously, and an Angle Mode which is flying the drone at a higher sensitivity. The average speed in Angle Mode is around 17 miles per hour, while in Follow Me mode it is nearly 22 miles per hour.
Camera
This is where the YUNEEC Q500 4K Typhoon shines above its competitors in the market. This quadcopter sports an excellent CGO3 detachable camera which is filled with impressive features. It is a 12 MP HD camera with a 14-mm f/2.8 camera lens. It also has a 1/2.3-inch CMOS sensor and a 115-degree field of view which makes aerial photographs look absolutely stunning.
In addition to that, video recording is done at full Ultra HD settings, with 4K resolution at 30 frames per second. Lower settings also include full HD 1080p recording at 60 frames per second. This unit has 5.8 GHz frequency of video transmission, with a 4 GB micro SD card for storage. Storage can be expanded up to 128 GB.
Remote Controls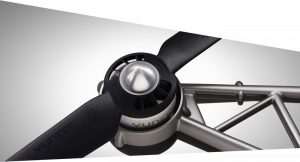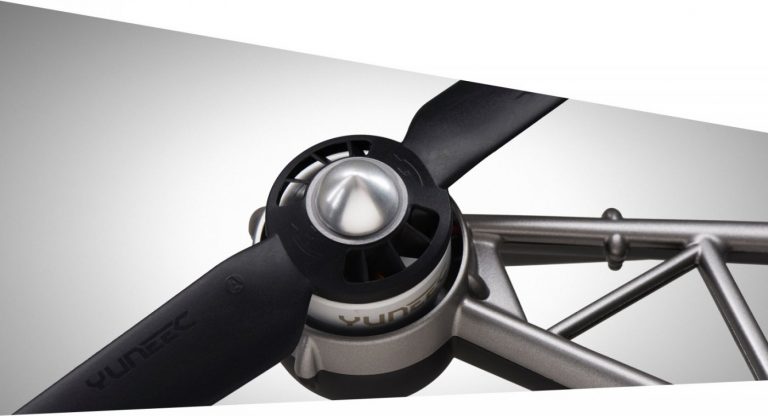 The remote controls for this quadcopter includes a 5.5 inch capacitive multi touch LCD screen with 2 analog joysticks on either side. Its dimensions are 115 x 188 x 242 mm, and the screen resolution is 854 x 480 pixels. The controller operates on 10 different transmission channels and uses an Android OS. It also has a single touch button for 360-degree flips and turns, with autonomous flying and return to home features as well.
Value for Money
The YUNEEC Q500 4K Typhoon is currently priced between $1200 and $1300 USD. It is definitely a professional grade drone that can be used for myriad purposes. As far as its price point is concerned, there is hardly a better unit in the market that can rival this excellent product. Its flight duration is pretty decent and the aerial photos look absolutely stunning. So, all in all, it is certainly worth its price.
You should get this YUNEEC Q500 4K Typhoon quadcopter if you are:
Looking to capture professional quality aerial photos and videos.
Getting into professional drone piloting.
Looking for easy to use drones or quadcopters.
From its strong and durable body design to its 4K Ultra HD camera features, YUNNEC has produced an excellent drone that can serve multiple purposes. So, if you are opting to purchase one, it is highly recommended!
Click here to know the price for which you can buy it now!